Concepts to Consider
Concepts to Consider
Foreword: This section is provided primarily as a resource for teachers.  Hopefully, it is readable but more importantly it gives you as a teacher of God's word several ideas on how you and your students might enjoy your classroom discussion and application even more.
"And He Himself gave some to be apostles, some prophets, some evangelists, and some pastors and teachers, for the equipping of the saints for the work of ministry, for the edifying of the body of Christ" (Ephesians 4:11-12).
Mission: Embrace God's Word in print and onscreen to prepare for personal ministry
Note: ERCC Bible Study Quarters Follow School Year Calendar
1st Quarter: Sep, Oct, Nov
2nd Quarter: Dec, Jan, Feb
3rd Quarter: Mar, Apr, May
4th Quarter: Jun, Jul, Aug (also summer events)

Foreign Mission Trips
Teen Camps
Teen Mission Trips
Teen Service Week
Teacher Rotation
Vacation Bible School
Other Special Summer Events
Important: In our rapidly changing world of technology some students prefer "onscreen" information vs. printed text.  However, as a teacher you should be prepared to promote the strength of both.  Here is why:
Some students' cannot afford the latest technology
Some parents do not allow children to bring smartphones to church/class
Some adult students make minimal, if any, use of latest technology
Technology cannot be relied on in most mission locations
As a teacher it is obvious you want your students to achieve the most in the disciplines of life.  How much more so because you have the passion to share God's plan for each and every one of those who sit at your feet.
Jesus, the Master teacher, used personal example, questions and parables to reveal deep spiritual truths through self-discovery.  We take this lead from the Master teacher to help young minds do the same today.  God's word provides the path to the joy of personal ministry.  Our task is to help each student to find and stay on the path for a lifetime.
Two modern education systems are actually borrowed from God's dealing with his people from Genesis thru Revelation.  Please understand that when we discuss Bloom's Taxonomy and Socratic Critical thinking we are really implementing what Jesus demonstrated perfectly in His personal ministry.
For a basic understanding see resources below Changing Minds (Socratic Teaching).  It is highly recommended that only the first three levels be used on a regular basis: Remembering, Understanding, Applying.  The higher order should be used when it is obvious that the students are ready for this level of discussion: Analyzing, Evaluating, Creating.
Highly Recommended Resource: TeachOneReachOne.org  will make your class come to life.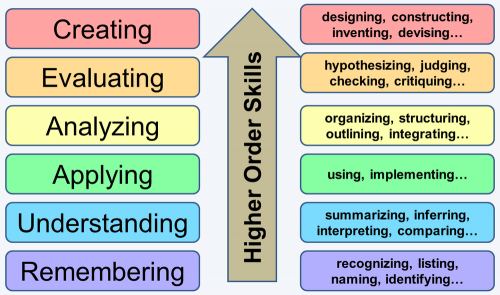 Here are a few discussion questions for each of the three lower levels.  Create your own also to better direct the discussion.
Remembering

When was this written?
Who is speaking?
Who is the writer speaking to?
Who were the people involved?
Where were they?
Why were they there?
What else was there?

Knowledge

What was happening when this was written?
In your own words, what is the situation?
What options does the writer present?
Do you have options? What are they?
Does this situation seem familiar?
Who does this apply to?
Does any other writer address similar ideas?

Applying

Using "I" statements, how might you apply this lesson?
Will anybody notice if you apply it?
Why would you not want to apply it?
Will it be easy to make this change?
Do you think you will have support to change?
Will your life be easier if you apply this lesson?
Have you had to make this kind of decision before?
Recommended Lesson Preparation
Students are provided Bible text for the next lesson in class: paper copy, via email, text, blog, etc.
Students and Teachers read text in their preferred medium
Students and Teachers log responses to the generic questions associated with the three lower levels
Students and Teachers submit, print or save completed prep section for next class
Blogging responses to the questions prior to class is encouraged…no such thing as cheating here!
Where possible, configure Teaching Space for optimum discussion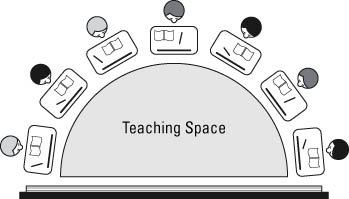 Click for Teaching Space Configurations
Stand at the door and greet students
Small Talk 5 minutes
As for prayer request and pray
Read lesson text from printed bible

All students can see and do since not all students have smartphones
Shows respect for both mediums
Prepares students to teach on mission trips

Discussion Lesson Objective

Example: Luke 10:25-37 The Good Samaritan

Begin Lesson discussion questions about:

Remembering

Who were the characters in this parable?
What did they ask?
What did Jesus do?

Understanding

What is a Samaritan?
What is a priest?
How did they act?

Applying

What did Jesus tell the lawyer to do?
What can we learn from the Samaritan?
What will people think when you do what the Samaritan Did?

Ask students if Lesson objective was met
Provide information for next lesson.  Give paper copy to students without online access.
Dismiss with Prayer and stand at door to speak to students as they leave
Suggested Teacher Resources:
Please Note: The following are examples only.  You should create or choose the study material.
Printed ESV Study Bible (WiFi or Data Plan not required)
Bible Study Guide: (Website for Recommended multi-year lesson plans)
Bible Study Guide: (Orientation for users of BSG multi-year lesson plans)
TeachOneReachOne: Excellent Resource for New and Part Time Teachers
May God continue to bless you and your students who sit at your feet.
How beautiful upon the mountains are the feet of him who brings good news, who publishes peace, who brings good news of happiness, who publishes salvation, who says to Zion, "Your God reigns." Isaiah 52:7